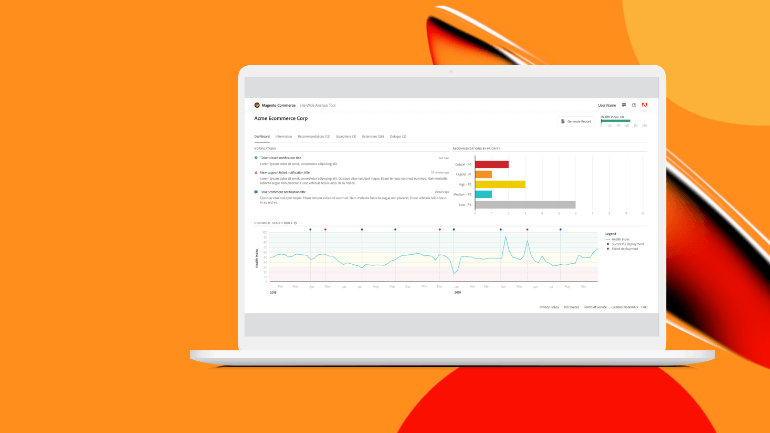 The 2020 holiday season is upon us, and with it millions of shoppers will be browsing the Web looking for the best deals. As the COVID-19 pandemic continues to shape the way we live, the online shopping trends seen during the previous six to eight months are predicted to continue throughout the holiday season.
In fact, both Forrester and Deloitte agree this will be the year when online shopping will reach record levels. Deloitte predicts "e-commerce holiday retail sales to grow between 25% to 35% from November through January, reaching $182 billion to $196 billion in total."
Additionally, a study by Glassbox discovered that 70% of U.S. consumers intend to make most of their holiday purchases online this year. This wave of buyers will bring many challenges for which merchants should be prepared, among them ensuring top site performance and an optimized customer experience.
There is also risk that your busiest time of the year could attract malicious players seeking to exploit your site or your customers. According to a study by KPMG, 19% of consumers said they would completely stop shopping at a retailer after a breach. Clearly, addressing these challenges is more important than ever before.
That's exactly what we're doing. Today Adobe is releasing the latest versions of Magento Commerce and Magento Open Source (2.4.1). With new security features and enhanced tools for merchants to continuously update their sites with new imagery, content, and promotions, Magento Commerce 2.4.1 can help merchants maximize their opportunities for a reliable and successful 2020 holiday season. We recommend all Magento merchants make an effort to adopt one of these packages as soon as possible.
STAY SECURE
In addition to the 15-plus security and bug fixes included in this latest release (in areas such as SQL injection and information disclosure, among others), Magento 2.4.1 and 2.3.6 now include CAPTCHA to order placement and WEB APIs endpoints related to payment information. With this CAPTCHA implementation, Adobe seeks to minimize carding – an attack vector that translates into considerable losses for merchants and shoppers who fall victim to this type of fraud.
Likewise, 2.4.1 provides SameSite cookie attribute support, an important update to support Google's recent changes in the way its browser handles third-party cookies. Finally, and to better secure our merchants' stores, we recently released our enhanced Magento scan tool, a free tool that proactively and efficiently detects malware on a customer's online store and notifies them of any security risks, malware, or threats they need to address. Customers can sign up here.
STAY ON TOP OF YOUR SITE'S HEALTH WITH OUR SITE-WIDE ANALYSIS TOOL DASHBOARD INTEGRATION
For our Magento Commerce customers hosted in the cloud, we are extremely excited to announce the integration of our Site-Wide Analysis Tool and its features and capabilities. Starting with Magento Commerce 2.4.1, customers can now gain real-time access to this tool's dashboard via the Magento Admin Panel. The ability to monitor your site's health, performance, functionality and even get recommendations on how to fix known issues are just some of the robust capabilities this tool offers. Managing your online store and ensuring its optimal performance has never been easier!
AN ENHANCED AND MORE SECURE B2B EXPERIENCE FOR BUYERS AND SELLERS
Magento Commerce 2.4.1 brings new enhancements to our B2B capabilities in areas such as shipping options, cart management, payments, and security. B2B buyers can now benefit from personalized shipping methods, faster requisition list creation, and approval workflow usability enhancements. Additionally, they are able to add an entire cart or individual items to a requisition list, facilitating the faster creation of order templates. Likewise, they can also clear an entire shopping cart in a single action.
FASTER CONTENT CREATION AND IMPROVED STOREFRONT EXPERIENCE
Recent projections estimate that this holiday season will begin much earlier – perhaps as early as this week with Amazon's Prime Day sale – and spread throughout the fall months, thus lengthening the time shoppers will be searching for good deals. This, in turn, will create the need for merchants to continuously update their sites with new content, engaging promotions, and attractive discounts. Magento Commerce is well-positioned to offer the tools and features that merchants need to continuously adapt to rapid changing market conditions. In 2.4.1, we are introducing:
NEW MEDIA GALLERY
Just last quarter, we introduced a completely redesigned and vastly improved Media Gallery. We continue our commitment to delivering the best tools for image and asset management, saving significant time and resources for creative stakeholders. In Magento 2.4.1, the Media Gallery is now enabled by default and adds new functionalities that will help content creators manage, edit, and find images, easier than ever. Enhancements also include support for bulk image operations, new filtering options, duplicate detection, custom metadata, and more.