Find the perfect domain name ...
Now available .business, .consulting, .coach, .agency and many more.
Online success starts with a great domain name
Your domain name is the core of your online presence, announcing your business, blog, website, or e-commerce site to the world.
The foundation of your online presence.
Choosing the right domain name is vital. It tells the world everything about you in a word, from who you are to the purpose of your site. We offer all the main domain extensions making it possible for your domain to tell your story, no matter what that might be.
Protecting your brand online has never been more critical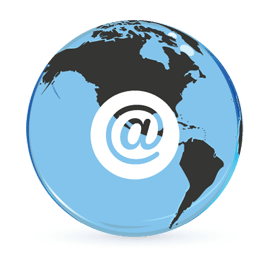 www.yourdomain.com
Start your domain search now ...
and start building your domain names portfolio.
Available Domains
200 + Most Popular Generic, Specialty & Country code TLDs
Offer the most popular domain extensions available on the Internet today. Customers can find a web address to help build their online presence—whether they are looking for a generic extension or want to stand out within a specific country.






Generic TLDs (gTLDs) are global extensions. These extensions are recognized all over the world. Choosing one of these extensions will appeal to the widest range of people. Examples include .COM, .NET, and .ORG.
.COM
Short for .commercial. Domain names with the .com extension are by far the most popular, and can be purchased by any individual or business.
.NET
Short for .network, this domain extension was originally designed to be used by technical Web sites. However, domains using this extension can be registered by anyone.
.ORG
When you buy a .ORG, your organization is linked to a well-established brand of trust and integrity. One of the original top-level domains (TLDs), .ORG became the registry of choice for organizations dedicated to serving the public interest, and today .ORG is considered one of the most trusted domains on the internet.
.BIZ
Dedicated exclusively to the business community. The .BIZ domain can only be used for a "bona fide business or commercial use"
.INFO
The first unrestricted top-level domain since .com, .info domains are available to the general public.
.NAME
Available to the general public, .name email addresses are listed as firstname@lastname.name or lastname@firstname.name, while Web sites are listed as www.firstname.lastname.name.
.XXX
Designed specifically for the global adult entertainment industry as a trusted brand, globally recognized and extolling responsible and safe behavior.
Hybrid TLDs tell people what your website is all about. Because they are new, they also let people know you are on the cutting edge. Examples are .CO, .PRO and .ME.
.ASIA
Admin Contact must be located in .ASIA approved region or meet registrant contact requirements for Charter Eligibility Declaration (CED).
.CM
No residency requirements for this ccTLD.
.CO
No residency requirements for .CO. Ideal for companies. Anyone can register a .CO, .COM.CO, .NET.CO or .NOM.CO domain name.
.ME
One of the fastest growing ccTLDs of 2008 is the new .ME domain. .ME is used to personalize your web presence and make a statement by a name. Plus it is a great tool for both individuals and businesses to help people remember where to find them online.
.MOBI
.Mobi is the only TLD dedicated to the unique needs of mobile web users. Visitors can trust that a website is compatible with their mobile device if it ends in .mobi.
.PRO
For those who provide professional services and are licensed by a government certification body.
.PW
.PW is the namespace for individuals and businesses who want a professional presence on the web.
.TEL
The .TEL is a service that allows individuals and businesses alike to store and manage all their contact information and keywords directly in the DNS without the need to build, host or manage a website.
.TV
.TV is the address for rich and dynamic media on the web.
Country Code TLDs (ccTLDs) are country specific extensions. Choose a Country Code TLD if you want to get customers from a specific country or just want to show everyone where you're from. Some examples are Germany (.DE), India (.IN), and Canada (.CA).
.FR
Top level domain for French. Residency or E-ZONE SAS contact is required.
.CH
Top level domain for Switzerland. Anyone in the world can register a .ch domain.
.IN
Top level domain for India. Anyone in the world can register a .in name.
.EU
To register a .EU domain name, you must meet one of the following requirements: i) Undertakings having their registered office, central administration or principal place of business within the European community; ii) Organizations established within the European Community without prejudice to the application of national law; iii) Natural persons resident within the European Community.
.ES
The .es country code top-level domain name (ccTLD) is an extension representing Spain and español. Domain names with the .es extension are useful for companies or individuals who want to reach the growing number of Internet users in Spain and the global Spanish-speaking community. Registering a .es domain name gives you regional recognition and an easy-to-manage Web presence.
.IT
Individual registrants may only register one .IT domain. Companies may register more, but must provide a tax ID number. Registrants must reside in the European Union.